Colorbond Steel Colour Range
Colorbond Colour Range
With a wide range of colours and finishes, you can create the perfect finish to your home thanks to the Colorbond Steel Colour Range. Mix and match the right colours for your roof, gutters, fascias and downpipes and let your personality shine throughout your home.
Smart Roof can supply and install a range of Colorbond products for your home and with a great range of colours across the contemporary and heritage ranges, you know that you're in the right hands.
Colorbond Contemporary Colours
The Colorbond contemporary colour range is inspired by the colours of Australia and contrast a range of dark, subtle and bold colours. Below are 14 contemporary colour swatches that you can choose from and mix and match your perfect Roof & Gutter solutions.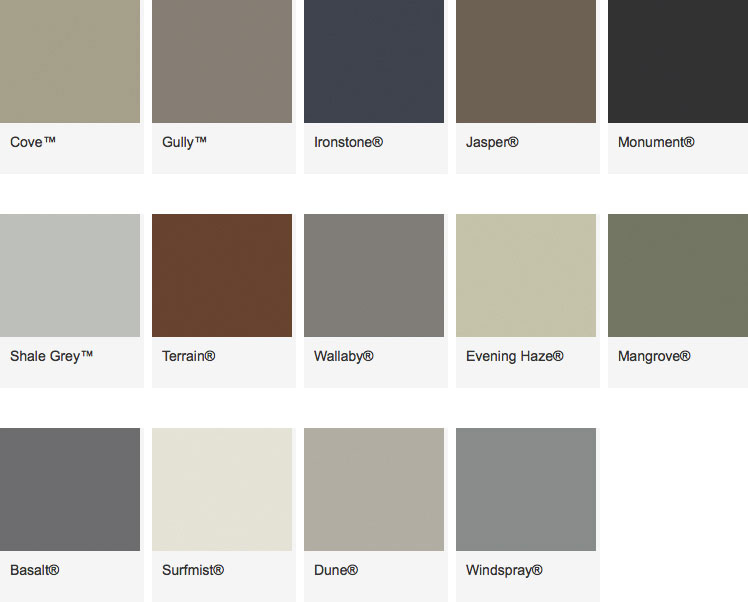 Colorbond Classic Colours
The Colorbond Classic colour range is a conservative, safe and neutral colour palette that appeals to a wide range of consumers throughout Australia. Smart Roof has a selection of 8 classic colours that you can choose from when replacing or repairing your roof and gutters.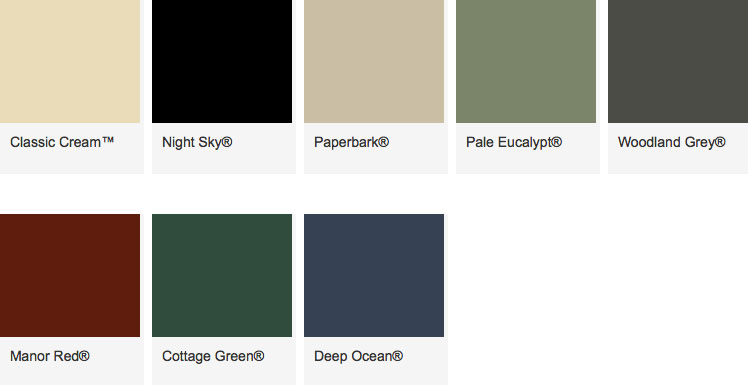 Tips For Choosing Roof Colours
The roof of your home is one of the largest fix elements and whether your replacing your entire roof or simply repairing your gutters, choosing the right colour for your home can be quite challenging.
With over 20 years experience as Perth's premier roof replacement specialists, Smart Roof has a number of tips that can help make the process of choosing your new roof colour a little bit easier.
1. Select a colour that does not over shadow the entire aesthetic of your home
2. Consider your homes location and its surrounds, both natural and built.
3. Create a colour flow in your home so that your exterior colours and interior colours blend to create a "flow".
4. Consider the other materials that you can see in your home such as brickwork, feature panels or concrete.
5. Talk to Smart Roof, the roof replacement specialists. We can help you choose a colour that will bring your roof and gutters to life.