Metal roof is one of the best and durable option and solution to houses' roofs especially when it comes to long life span, style, low maintenance and high quality material. The metal roofing material was first developed in France, 1837 whereas the first metal roof was installed in New Orleans, in 1857.
Do you have idea that metal roof is low-maintenance option that can last for decades?
Metal has vast variety of nearly 100 on periodic table of elements. If we conclude in the context of roofing, few of the most common used metals for roofing are Galvanized (steel), stainless steel, aluminum, zinc and copper. Metal roofs are eligible to hotels/restaurants, hospitals, schools, universities, churches, government & corporate buildings, military structures or stores etc.
Metal roof can long lasts for 40-70 years and in Perth, Smart roof is providing their specialized services for metal roof installation, restoration, repairing and maintenance with the team of highly professional experts. They make sure the quality and need of your home with longevity and sustainability that remains with ease in any condition e.g. weather or disaster. Reliability is the key to your house material selection and Smart Roofs values the residential demand by just being on one click away.
BENEFITS OF METAL ROOF
Smart Roof emphasizes the house need with the benefits of metal roofing:
Longevity In Age
Less Maintenance
High Popularity Among Other Roof Materials
Energy Saving Quality
Durability Than Wood, Concrete, Plastic Or Glass
Controlling and Stability Features (Winds, Rains and Moisture, Snow, Hailing, UV Radiations, Dew or Algae etc.)
Non Combustible
Easy To Clean
Eco-Friendly
Highly Recyclable
Low Cost
Affordability
Variety Of Warranty and Guarantee
Services are always best when they are well explained by the providers, Smart Roof assures the above benefits in just one call.
HOW DO I KNOW IF I NEED METAL ROOFING IN MY HOUSE?
So the answers is, generally, if someone is facing the issue of leakage, bald spots/holes, insects, cracks, un-wanted maintenance, animal caused destruction, low durability, moss growing, moisture, and weather effects like heat trap, they should consider shifting to metal roofing. For better guidance and time to change, one can consult "Smart Roofs" as their guidance will lead to better selection. Also there is a myth that roof should be changeable only in summers but winter pours equal effects due to heavy rains, snowing and hailing.
STEPS OF METAL ROOF INSTALLATION

For metal roof installation components are:
Accessories – fasteners/screws, clips, sealant, pipe boots, underlayment, butyl tape, clamps, cleats, rivet gun, closure strips, ridges & sidewall flashing.
Metal coils & sheets
Panels
Connecters or profiles
Equipment for roll forming
Seam
Steps to Install Metal Roof:
Starting consultation to organize and prepare agenda of what, how and when
Take measurements according to the roof size ( length, width & sections )
Align the material to be used
Removal of previously installed material
Install underlayment
Install edges
Install panels
Install closure/ending panels/ridges
Finishing the overlook
STEPS OF METAL ROOF RESTORATION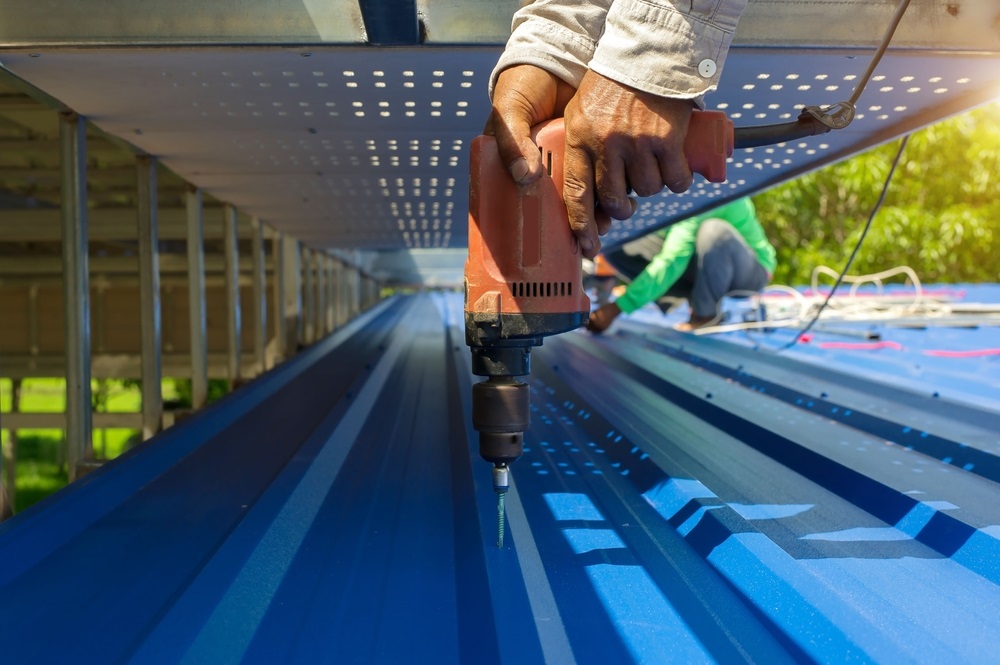 Restoration process of metal highlights the importance of protection and conservation of what you have already placed in roof. This process focuses on saving the historical, religious, artistic and technical archeological objects/roof made up of metal, completely or partially. Metal repairs happen when roof objects are worn out, needs to be replaced, become rusty and shown designing/styling issues. Restoration also happens due to leakages, shape effects like dimensional error and roof cracks especially in joints or edges.
Metal restoration and maintenance is a practice of polymer technology to maximize the performance of metallic components on surface. It helps to joining back the cracking and broken parts of poor structure of roof.
Steps to be taken in mind for restoration includes:
Replace Fasteners and Screws On Joint Or Edges
Paint The Dead Parts of Panels
Improve The Damage Metal With Replacement
Install Spray Foam on Existing Metal
Replace Metal Coat
Have A Power Wash and Detailed Roof Cleaning Process
Use Rust Inhibitor Primer
Add Coats Over Seams
Above mentioned are the steps for restoration of metal roof that are highly recommend for better life span of your roof. For quick and utmost services you can consult with Smart Roof.
LIFE OF METAL ROOF WITH SMART ROOF
In Perth, if you are facing any problem with roofs, you have the best option of Smart Roof. Their smart plans accumulate your problem with exceptional services with quality products. Smart Roof is specialized metal roof installer with trust worthy history of customer feedbacks. They are expert in installation, maintenance, repairing and restoration of metal and tile roofs at every level of residential scale.
SMART ROOF IS YOUR GUY!